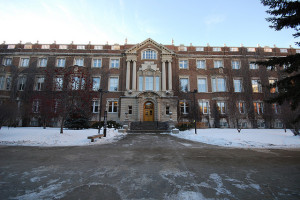 University of Alberta address: 114 Street 89 Ave
The Centre for Comparative Psycholinguistics facilities are located on the University of Alberta campus in the Old Arts building in rooms 103 and 104. Scroll down for a peek into our lab.
For more information on some of our equipment, click on the following links:
---
ARTS 104 A – OBSERVATION CONTROL ROOM
Room 104 A is designed as an observation control room, and houses the video and sound recording and mixing devices that are used for observation in 104 B. The computers in here are equipped with The Observer® XT and FaceReader™ Noldus software.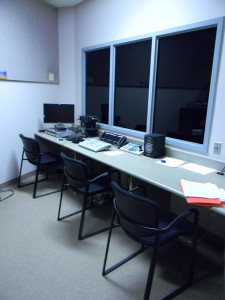 ---
ARTS 104 B – OBSERVATION ROOM
Room 104B is an observation room that contains unobtrusive cameras and high quality microphones, which permit naturalistic investigations of both linguistic and gestural behaviour among elderly, adult, aphasic, and child participants.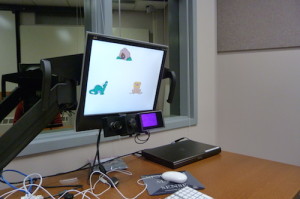 Currently, the space is also used for experiments with the head free portable EyeLink1000 plus.
---
ARTS 104 C – LABORATORY
Room 104C houses a soundproof booth in a Faraday cage, which provides an appropriate physical environment for phonetic data collection and analysis. It can also be used as an electronically "silent" area for experiments that require a minimum level of electrical interference, such as ERP/EEG and EFRP. EFRP (eye fixation related potentials) refer to joint recordings of brainwave and eye-movements. The latter is made possible by a chin rest eye-tracker (Eyelink 1000) set up in the soundbooth.
Four additional sound booths are located in 104 C where tasks such as lexical decision, self-paced reading, and self-paced listening are carried out.
For more information on eye-tracking, click here.
For electroencephalography (EEG), a non-invasive technique for measuring brain activity, the lab has two EEG systems.
For more information about EEG, click here.
---
ARTS 103 – DEVELOPMENT AND ANALYSIS
The Development Room has work stations for development and analysis of experiments. There is also a large conference table and video conferencing system for group lab meetings, workshops and courses.
---
ASSINIBOIA 1-45 – SUPPLEMENTAL EYE TRACKING FACILITY
Assiniboia Hall houses an Eyelink 2 head mounted eye tracker.