CCP Spring Training in Experimental Psycholinguistics
The Centre for Comparative Psycholinguistics (CCP, University of Alberta Department of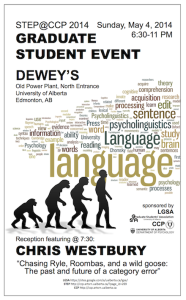 Linguistics) organizes a week long Spring Training Workshop in current issues and methods in psycholinguistics in Edmonton, Alberta, May 4-8, 2014. The Spring School is directed at graduate and advanced undergraduate students and anyone else interested in learning how to make their research ideas into concrete steps towards experimental designs, data collection and analysis using advanced experimental and statistical methods. The workshop takes a practical hands-on training approach to the following methods and topics:
EEG Data in R: Formatting, Pre-processing, and Statistical Analysis (Antoine Tremblay, Dalhousie University)
Figurative Language and Experimental Psycholinguistics: Converging Paradigms and Measures (Herbert Colston, University of Alberta)
Exploring the Visual World Eye-Tracking Paradigm: From Data Collection to Statistical Analysis (Jacolien Van Rij, University of Tübingen, & Juhani Järvikivi, University of Alberta)
Introduction to Modeling Naive Discriminative Learning (Antti Arppe, University of Alberta)
Using Speech in Psycholinguistics: From Speech Synthesis to Spoken Word Recognition (Benjamin V. Tucker, University of Alberta)
The Psycholinguistics of Complex Words in Creative Minds (Gary Libben, Brock University)
Click here for STEP Information Package (Events, Locations, Schedules)
MAPS can be found HERE
Information about accommodation HERE

For more questions contact Dr. Juhani Järvikivi (jarvikiv@ualberta.ca)

Location: University of Alberta, Edmonton, Alberta, Canada
Dates: May 4-8, 2014
Registration Deadline : April 11, 2014 — Registration after this date or onsite is subject to a higher fee of $180.
Fee: $150 (CAD) — The workshop fee includes attendance, workshop materials, tea/coffee, light snacks and lunch (5 days).
Please, download registration form HERE and return it to: jarvikiv@ualberta.ca